THE CASINOS OF WINNIPEG ARE EXCITED
TO WELCOME YOU BACK!

CLUB REGENT CASINO & MCPHILLIPS STATION CASINO ARE OPEN

10AM-3AM

DAILY.
With the health, safety, and security of our customers and staff at the heart of our operations, we have made several changes to the casino experience. Please see below for information that will help you plan a safe and enjoyable visit to the casino.
---
Casino Opening details: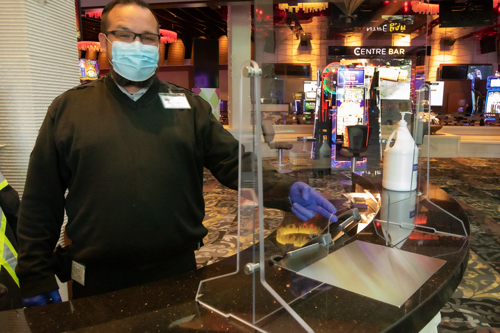 New safety measures in place for our staff and customers.
♦
We will not be conducting temperature scans. We ask all guests to self-assess. Customers or staff displaying these symptoms will not be permitted entry to the property.
♦
Face masks are mandatory for all customers. Click for more info.
♦
Club Regent Casino access will be through the Regent Avenue and the Event Centre & Hotel Link Entrances only.
♦
McPhillips Station Casino access will be through the McPhillips Street Entrance and the Parkade Skywalk Entrance only.
♦
The Shark Club Gaming Centre will be open at 233 Hargrave Street
from 12 pm – 10 pm.
♦
Slot machines and Electronic Touch-Bet Roulette are available for your enjoyment with physical distancing measures in place.
♦
Table games, the Poker Room (Club Regent Casino) and Bingo are temporarily closed until further notice.
♦
Coat check is temporarily closed until further notice.
♦
Club Regent Event Centre is temporarily closed until further notice.
♦
The Gift Shop will be open with limited capacity in store.
♦
The Players Club will be open
---
Food & Beverage Services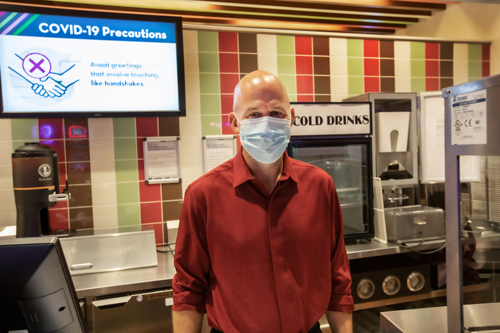 Club Regent Casino
Toukie's – New menu
Centre Bar – New menu
Ice Cream Shoppe
McDonald's
See Club Regent Casino Dining Info.
McPhillips Station Casino
Dixie's – New menu
McPhillips Station Casino Floor Bar
McDonald's
See McPhillips Station Casino Dining Info.
---
To make sure your visit is safe and enjoyable, we have introduced several safety measures: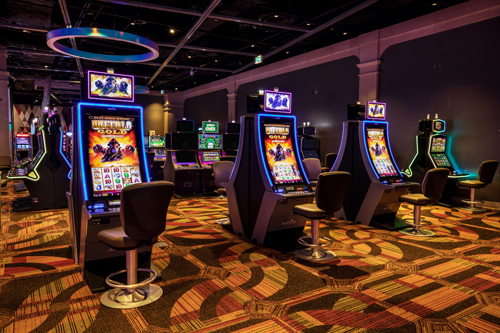 Machines and seating have been moved to practice social distancing.
♦
Areas where customers line up will be clearly marked for social distancing.
♦
Giveaways, promotions, special events, and tournaments have been suspended until further notice.
♦
Reduced hours to allow for proper sanitization.
♦
Limited capacity in casinos. Waiting in line does not guarantee entry to the casino. 
♦
New cleaning procedures, including frequent disinfecting of all high-touch surfaces.
♦
We've implemented measures designed to keep our customers and employees safe. However, if a case of COVID-19 is confirmed at a casino by Manitoba Health, we will take appropriate steps to notify customers and staff that may have been exposed. Casino staff will also thoroughly disinfect the property. Casinos or sections of the casino may be closed for thorough cleaning.

Customers are encouraged to:
Use the hand sanitizer stations placed throughout the casinos.
♦
Avoid greetings that involve touching, like handshakes.
♦
Wash your hands often with soap and water for at least 20 seconds.
♦
Cough or sneeze into a tissue or the bend of your arm, not your hands.
---
Please do not visit a casino
if you have any of these symptoms:
A fever, cough or runny nose.
♦
Shortness of breath or trouble breathing.
♦
A sore throat, headache or feel sick.

Or, if you:

Are self-isolating for 14 days due to travel outside the province.
♦
Have had close contact to a confirmed positive COVID-19 case.
---
Questions about your Club Card Membership?
Visit the Club Card page for frequently asked questions and updated information about your Club Card membership.
---
STILL HAVE QUESTIONS?
Please visit MBLL.ca/covid-19 for additional information.
---
Not ready to visit the casino just yet?
PlayNow.com offers a variety of online casino slot games, bingo, tables and lottery you can enjoy from the comfort of your home. Sign up today at PlayNow.com.

We look forward to seeing you again!